This article is updated as Scarlett is growing up, so you'll see different month ages mentioned here.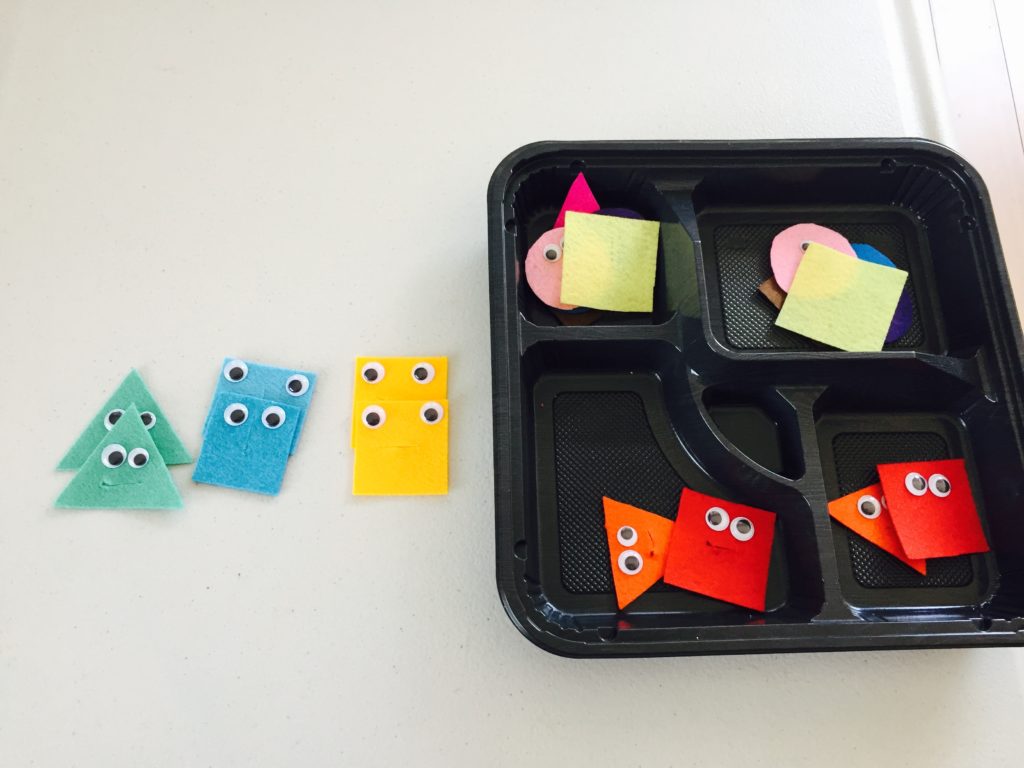 1. Shape monsters activities
Originally I made these shape monsters for stringing activity but we found some other ideas how to play with them. They are made out of felt sheets
 (you want stiff ones to keep the shape). I cut out squares, triangles and circles, put googly eyes
on them and made a slit in the middle of each shape. Googly eyes are optional if you think your child might put them in his or her mouth. Scarlett wasn't interested in taking the eyes off, so I kept them. I made an identical pair for each shape. Here are a few ways how we play with these shape monsters:
First of all, having those slits in the middle of each shape, allows Scarlett to put them on her fingers, so they kind of turn into finger puppet monsters. When she puts one shape on her finger, I ask her to find identical one and put it on the finger on the other hand.
I have been using a plastic box from a bento box take-out that we ordered recently for sorting activities. Shapes can be sorted by type in each container section.
I separated two identical pairs of shape monsters into 2 piles. As Scarlett takes one shape from one pile, I ask her to find a matching pair from another, and arrange them on a table in pairs.
Another activity idea is to put these shape monsters on craft sticks or straws.
Continue reading "45+ Learning Activities For 18-24 month olds. Toddler activities."