I wanted to share some of our favorite development promoting games and toys that are also fun to play with. I did research to find some of these earlier, and only sharing the ones that Scarlett really enjoys playing with.
The front cover of this workbook doesn't do it justice, you can preview some pages on amazon to see how colorful the pictures are. It has lots of activities for little kids. Some activities are almost too easy for a 2 year old, but there are enough activities there to keep a child entertained for a while – there are colorful stickers that need to be placed in certain spots, tracing lines, finding objects, matching colors and shapes, fun games – and all to improve problem solving skills for kids. There are lots of other workbooks by Gakken, and I highly recommend using them.
Here's a fun brain-building game. It includes a set of cards, 3 blocks and a bunny. Cards show patterns how bunny should be positioned around blocks, and the child has to recreate it from the picture. Cards have different levels of difficulty. We started playing with the simplest level when Scarlett was about 25-26 months old. I can see how she's trying to arrange the blocks and set the bunny to match the image, and that's an awesome logic building exercise for little kids. I have to warn you, some of the cards in the hardest level are even hard for adults to do correct. She spends some time just playing with bunny as well, so double benefits.
This is a world map with images of animals around the world. We do a fun activity with a map by taking an animal toy and matching it to the picture of that animal on a map. It's a great educational tool if your child likes matching activities.
This set of 3 puzzles is focused on developing logical thinking and problem solving for kids. It includes 3 levels of puzzles – matching shapes, and combining halves and thirds to build a shape. This puzzle promotes math skills and logical thinking. At 26 months Scarlett can build shapes from halves.
If your child likes stacking, this is a fun set of stacking pegs. It comes with a board and a bag. You can do stacking by colors, by alternating colors, or just random stacking for motor skills.
If your child needs some entertainment at night before going to sleep, here's a small little projector that projects images on the ceiling, and can be a great addition for a bedtime routine.
Probably every child goes through a bug stage. Scarlett picked these cute bugs at a store, and has been really enjoying playing with them.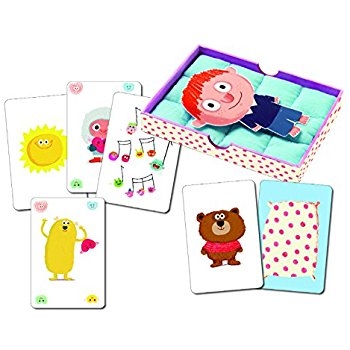 Here's a really cute game you can play with your child. The game includes cards, a bed with a mattress, and a paper boy and a girl. The game is played by taking cards from the deck until you find 3 items that a boy or a girl needs to go to sleep – a pillow, a teddy bear and a blanket. Once you find these 3 items, you flip the boy or a girl and you can see them sleeping. The most fun is in the cards that come up while you look for those 3 cards – each one displays an action to do, like kiss the belly, kiss the elbow, sing a song or do eskimos kisses. We started playing a simplified version of this game before Scarlett turned two – we just played the action cards without looking for those 3  cards, and I did all the kissing actions to her. It's such a cute game!
If your toddler loves spinning, this would be a popular toy in your house. Scarlett often asked us to spin her in our computer chair, so we got her this sit and spin so she can spin herself. I must say, it's great for releasing her unlimited energy, and as you might know it is a great vestibular stimulation.
Here's another game for learning shapes and colors and can be the first board game you can play with your child. There are different levels of playing – one of the easiest ones is to split all shapes between the players and then each one takes a turn by taking a piece and finding a matching space on the board.
I was so much into educational toys that I totally ignored getting a pretend play station for Scarlett until someone gave her this house for her birthday. And I'm so glad they did! She's been playing with this house non stop for the last 4 months now. I really underestimated how important pretend play is for toddlers – it helps improve their imagination, empathy, understanding of the world and promote speech development. There are 3 figures that come with the house – one male and 2 female, which turned out great for our family – they were announced to be dada, mama and Scarlett. There are also a few buttons to press that make sounds. I highly recommend it now after seeing how much she likes it.
If your child likes fingerprint activities, the series of fingerprint activities books by Usborne is a must have. Your child can watch how his or her fingerprints are turned into animals and other objects.
This set includes a double-sided board – one side is magnetic and can be also used for drawing with dry erase marker and the other side is a chalk board. It comes with a bunch of cutest little wooden magnets that can be arranged into pictures, one dry erase marker and a few chalks.
Jumping Jack — Pull Out a Carrot and Watch Jack Jump Game
Here's an active game to play with kids. Take turns pulling out carrots, and one of them will trigger the rabbit to jump at which point someone needs to catch it. It's great for learning to take turns, learning about cause and effect and developing fast reactions. It's also fun for everyone in the family!