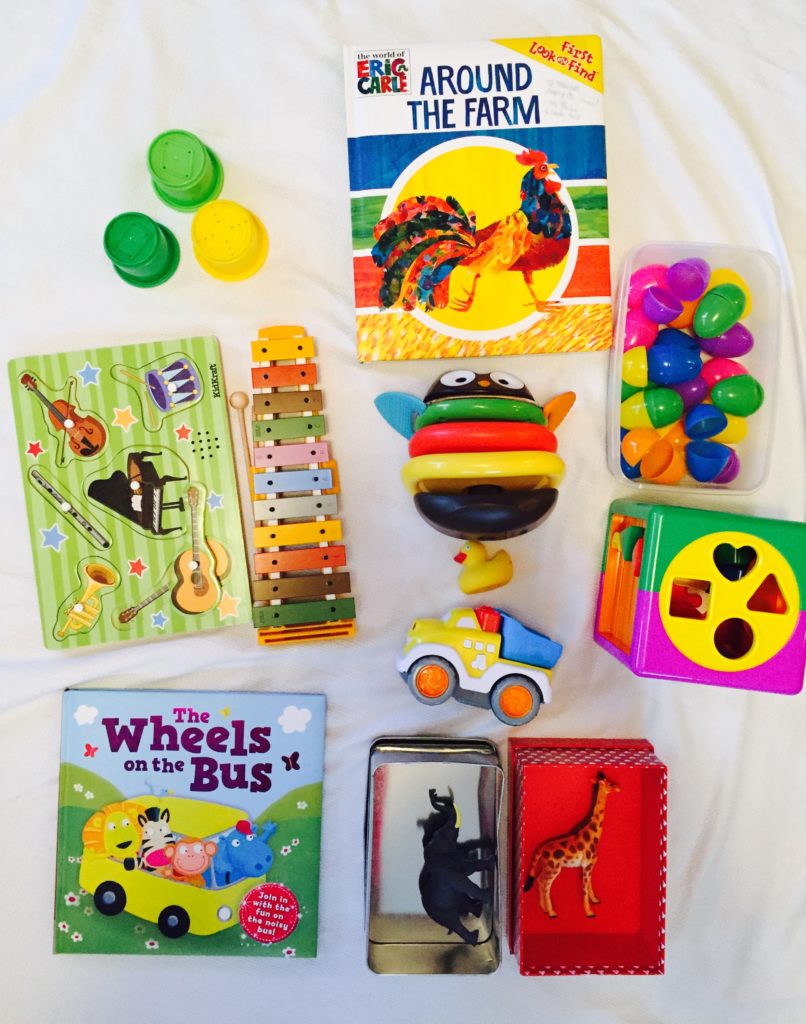 Here's a look in our Saturday box of activities and toys.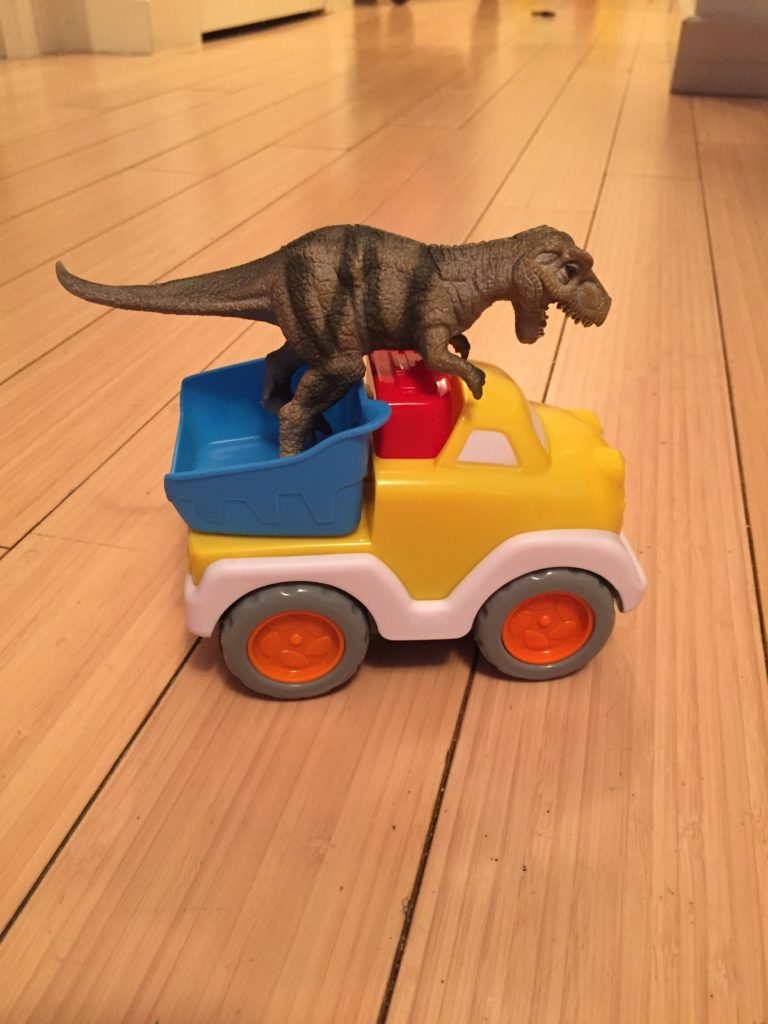 We've been having a lot of fun with sending toys for a ride. This truck that we got has a button that is very hard for a toddler to press, so I showed Scarlett how to push the truck with her hand. We started this activity at about 15 months, and now as soon as she sees this truck, she immediately places a toy in there and sends it riding 🙂
Sound puzzles are great to have because it provides additional sensory benefit by making a sound when the item is placed in the right place. There are different kinds of sound puzzles. We picked the musical instruments puzzle because we have a lot animal puzzles and toys so we wanted something different and it's fun to hear musical instrument sounds. The only negative thing about any musical puzzle is that it makes a sound even if the wrong piece is placed on top of it, looks like it's triggered by the shade of the object.

We keep plastic eggs in our Saturday box as well. So far, we play with plastic eggs in 2 ways. First, I hide little toys in some of the eggs. Then, we shake the eggs to find the ones that produce a sound. Then Scarlett tries to open them, and I still help her a lot with this one. Sometimes she would just enjoy the rattling sound without trying to get the toy inside it. Another way how we play is by placing eggs into an empty egg holder either with hands or with ice cream scooper. Later in, when she knows colors, we can sort them by colors by placing eggs of one color into one row of the egg container.
We got a xylophone when Scarlett turned 17 months, and I wish we got it a bit sooner, since she has so much fun with it. Her dad personally picked this one because he is a musician and it is important for him that the instrument is of good quality and is tuned right. This one is a bit more expensive than some others available, but the quality is just great. Scarlett loves to bang with these mallets all over the place, and I love how she would play the xylophone to play along some fun song that comes up.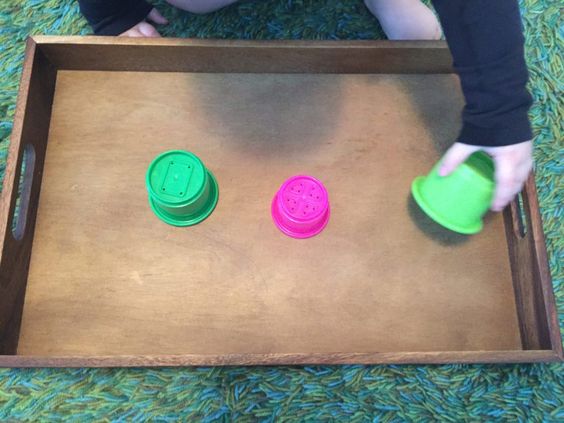 We keep 3 cups in this box to remind us to play the cups game. I hide a toy under one of the cups, shuffle them and Scarlett looks for a toy. After she turned 17 months old, she tries to shuffle the cups herself, it's cute 🙂
A shape sorter is a must-have for every toddler, and probably all parents have some version of the sorter. I put away letters for now, and we concentrate on sorting the shapes until she gets better at it.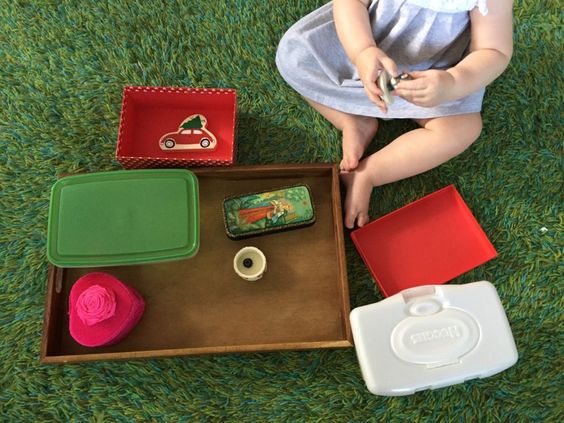 Looking for toys inside boxes
This activity is super easy to set up and fun. Look for boxes of different size and put a toy in each one. Encourage your toddler to open a box to find a toy inside. We can play this activity for a while, I just keep refilling the boxes with toys while she is opening one of them.
Ring stacker is also one of those toys that everybody probably has, and they are so great for toddler's development. We have a wooden ring stacker as well, but as soon as I saw this cute owl stacker I just couldn't resist. It's so cute, I think I'll keep it for a nursery decor even after she grows out of it.
Scarlett is just crazy about this song. The windows of our living room are facing the road, and every time Scarlett sees a bus, she starts making movements from this song. But probably all kids love this song, and I think it's great to have any version of The Wheels on The Bus book, there are so many of them. Scarlett would bring this book to me over and over again, I wonder how she doesn't get tired of it.
This is one of those books that Scarlett likes more than me. We got it as a gift, and while I didn't think she would be into it, I was totally wrong. I'm not sure if it's bright colors, or it's big size, but she loves it. This is a look and find book, and when she turned about 16 months, she started to do the look and find activity herself.
If you liked this post, check out our Sunday box of activities.