It's interesting how some toys that you absolutely love, your toddler doesn't seem to be so interested in. I'm sharing here toys that our 16 month old really loves, but, of course, each child is different.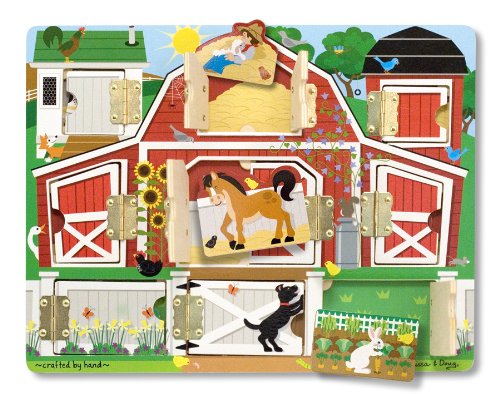 This board has been a hit for us. Scarlett loves to open little doors and discover an animal there. We learn animal names and animal sounds like that, and it's also a great memory game. I was really surprised that she remembers where each animal lives.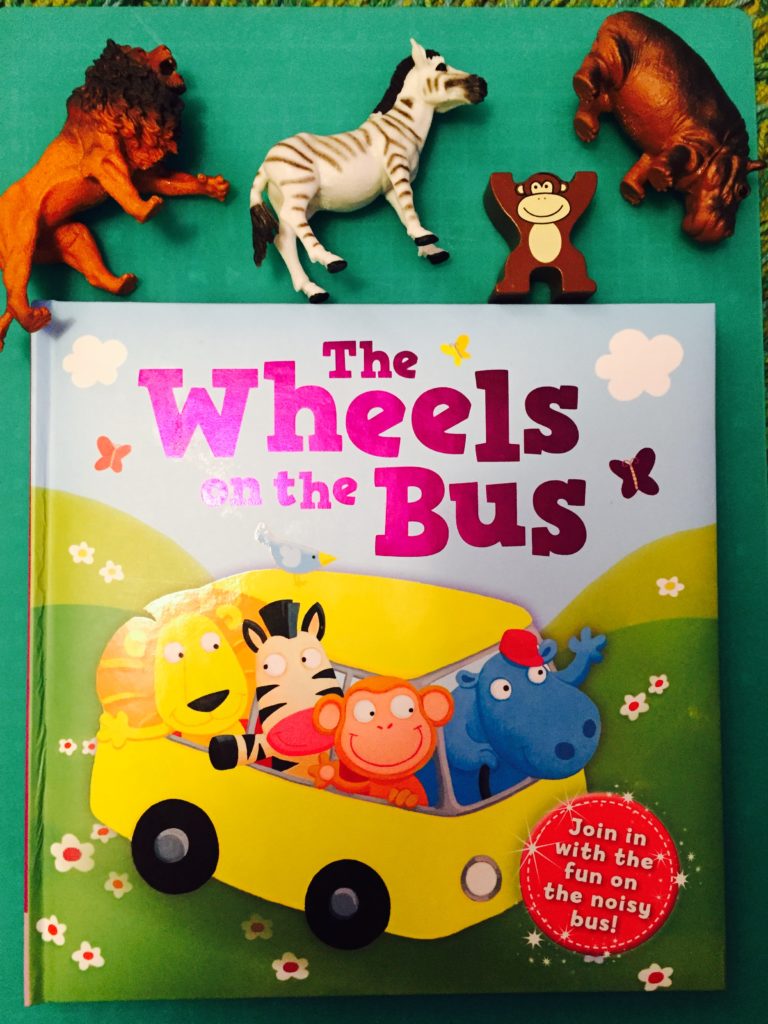 2. Animal set.
There are so many activities with animal figures:
The picture above is a picture of our reading time. We use animal figures for props to story time.
We also watch animal shows, and I pull up an animal from our bucket to show her.
We learn animals from flash cards, and I also show her an animal figure.
Animals can be used in any sensory play, they can be hidden under a pile of rice, oats, flour.
Animals can be used with playdough to leave footprint marks, they can also be hidden in playdough.
They can be wrapped in aluminum foil and be unwrapped by your toddler.
We use these 2 animal sets from Animal Planet:
Animal Planet Zipper's Safari Play Set
Animal Planet Farm Bucket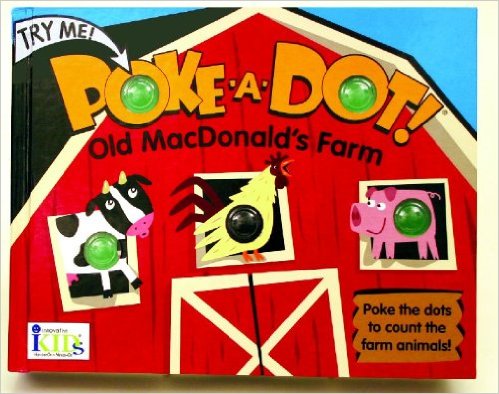 This book has very cool tactile buttons on every page that little hands can push on. They make a clicking noise, and are great for developing fine motor skills and hand eye coordination. Later it can be used to learn numbers. I love poking these bubbles myself, it's very therapeutic!

4. Learning tower.
This is not a toy, but I can't recommend enough a learning tower. This has been one of the best purchases we made for our child. We practice Montessori style home, which involves allowing your child to be involved in your daily activities and practice doing what you are doing. Whenever I cook a dinner, Scarlett is usually there with me, playing with vegetables or trying to cut some food with a plastic knife. Whenever I put on my make up  in a bathroom, she is there with me, playing with water in the sink. Whenever her daddy is playing a keyboard, she is there playing music with him.
We got this one: GuideCraft Kitchen Helper – Limited Edition Blue
 mostly because it folds up, and it is essential for our NY apartment, but there are a variety of them available.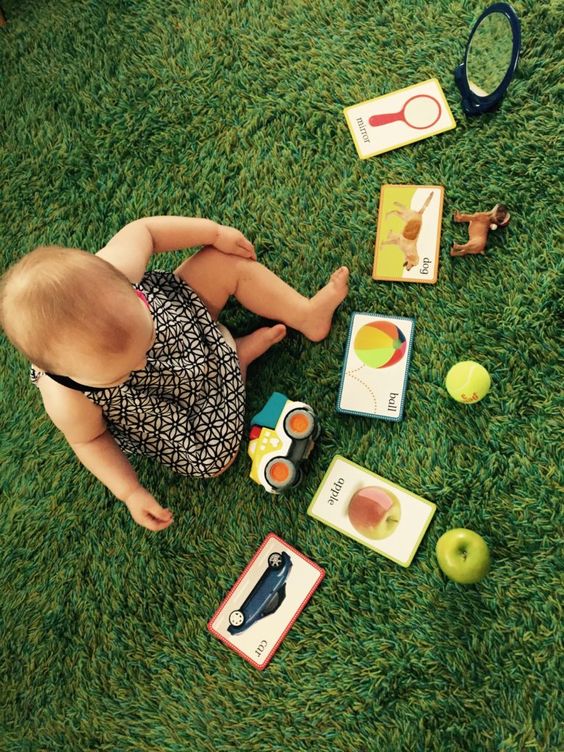 5. Flashcards.
We use flashcards to learn new words. You can read a bit more how we do it in this article but flashcards are a great way for your toddler to learn new words. The most important is to get cards with images on them, not illustrations.
This set has been our favorite, the cards include a tactile element on each one: My First Touch & Feel Picture Cards: First Words
.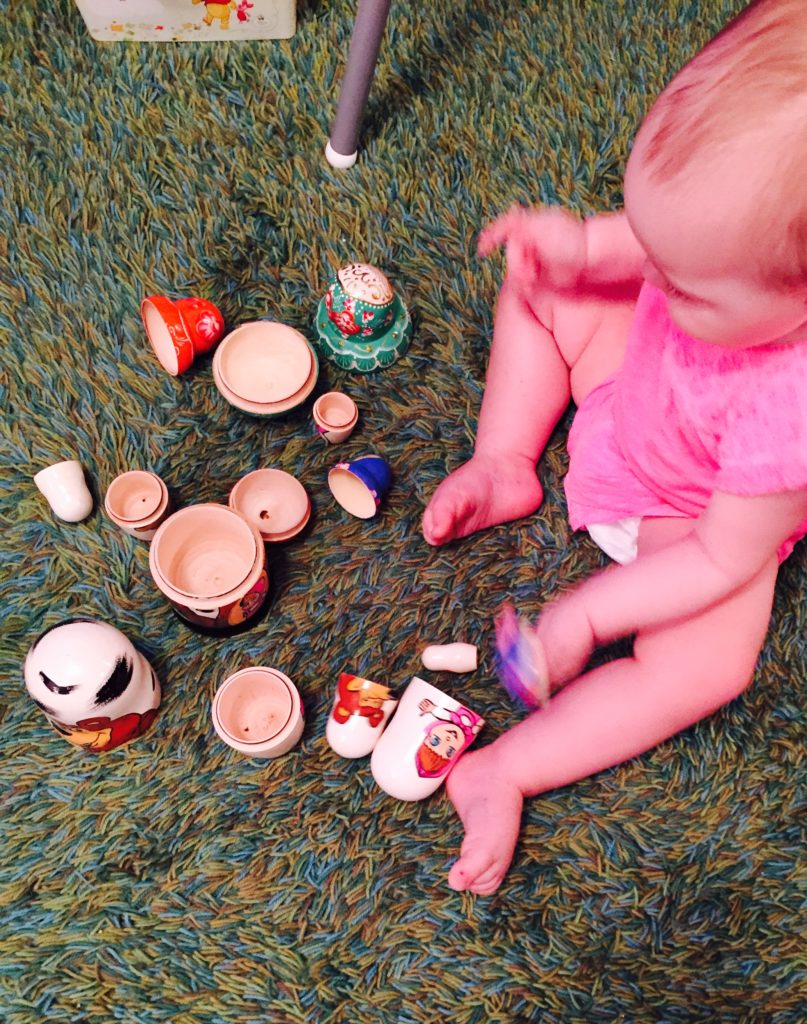 6. Nesting dolls.
Scarlett has been fascinated with nesting dolls since she was about 10 months. She just loves to open up the doll and discover another one inside. She still needs help putting them together, but could play with them for the longest time. She also likes to shake them and carry them around. We have a set with 10 pieces but we put away the smallest ones for safety. Here is one similar to what we have: YAKELUS 10pcs Russian Nesting Dolls
but any nesting doll would work.
7. Alex Toys Little Hands String A Farm
Stringing is a great activity for kids to develop fine motor skills. We love this set because we love animal toys and we also love wooden toys and they can be used for other games. I help Scarlett with the stringing activity but we mostly use these toys for other games. The stringing activity has to be done under supervision to make sure the child doesn't put a string around his or her neck.
ALEX Toys Little Hands String A Farm