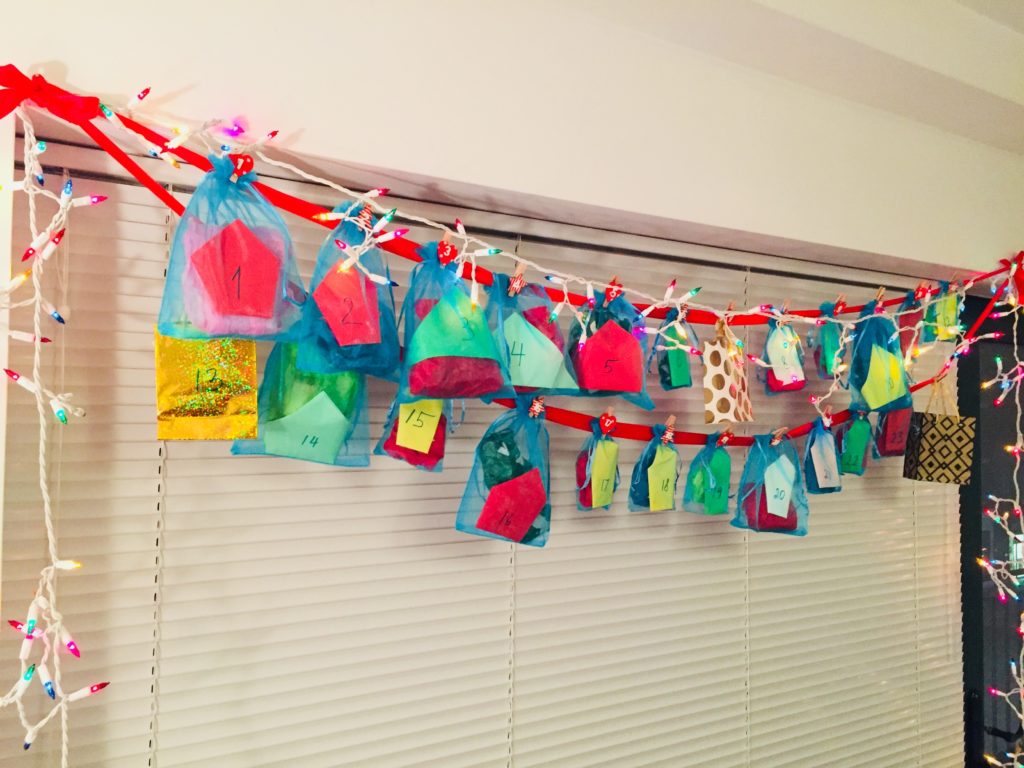 I couldn't decide for a while to do an advent calendar for Scarlett this year or not. She's 26 months old now and I wasn't sure if she would understand the idea, but I decided to try. I picked the activities that I think she would like, so I'll be sharing them here.
Our advent calendar includes 24 bags for Christmas countdown – each bag contains an activity to do and a little gift.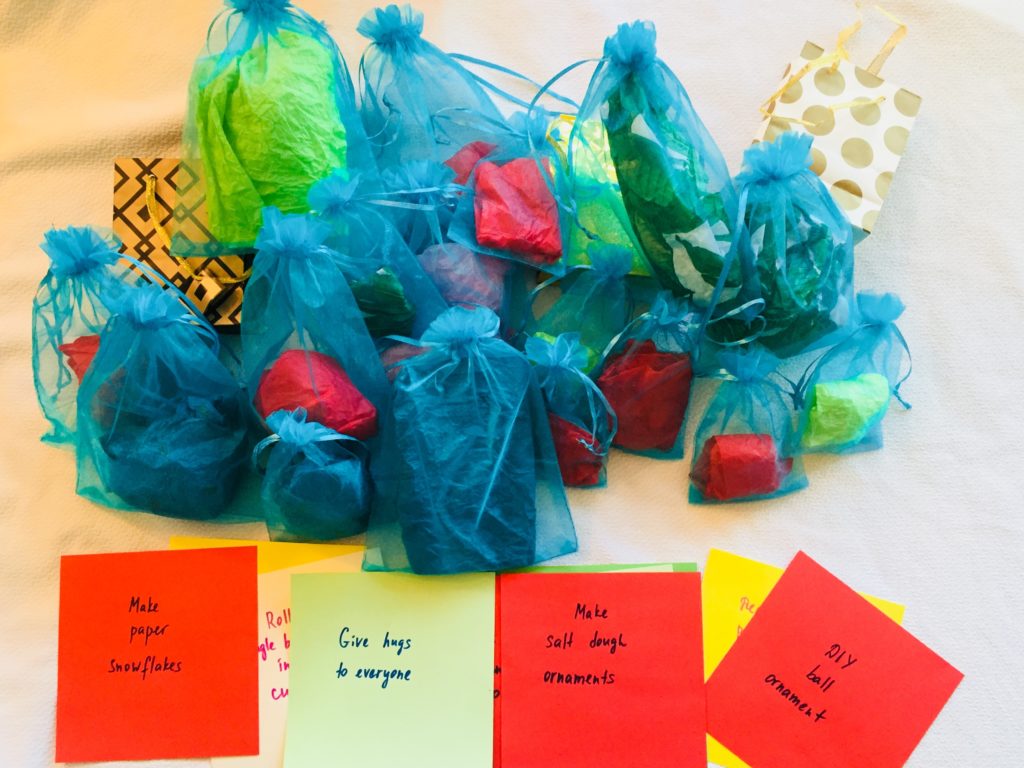 I made this advent calendar by using organza pouch bags 6 x 9
. There were 50 bags in a package so I got a lot of them left that I can use later for other purposes. I wrapped little gifts in tissue paper and put them inside each bag. Then I wrote one activity for each day on one side of origami paper and wrote numbers on the other side
 of the paper. I liked the shape and colors of origami paper, but any paper can be used. Then I inserted papers into bags in a way that numbers would be seen through. I used a couple of little paper gift bags to add some variety.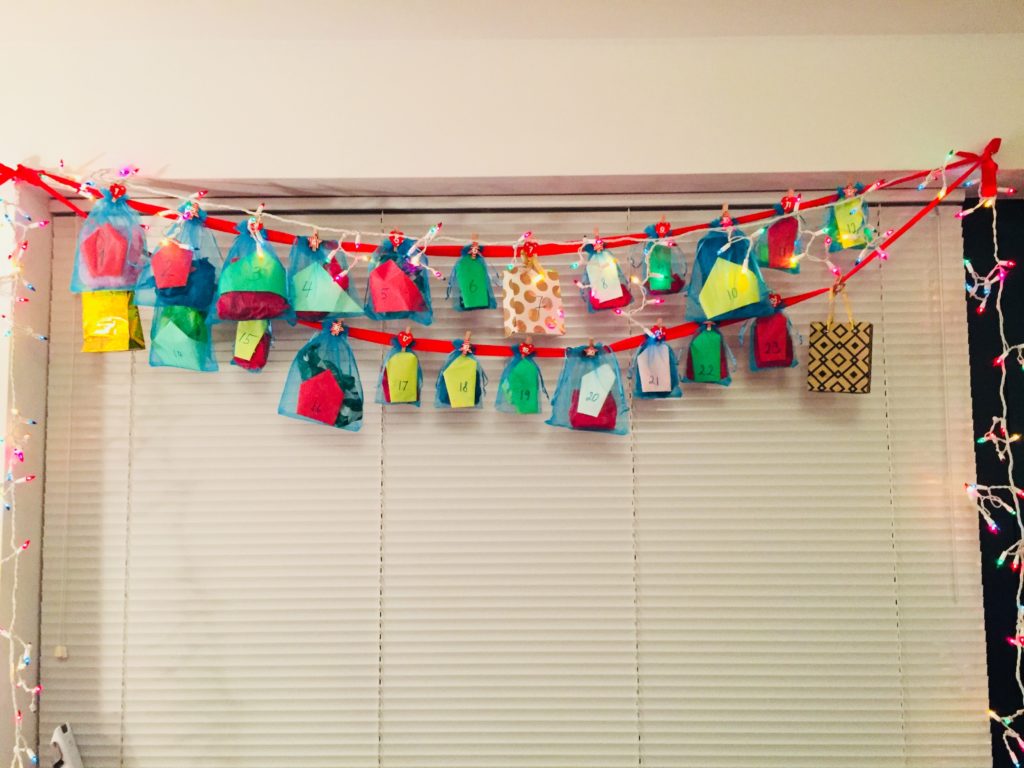 Then I hanged red ribbons around our window and attached bags in two rows using clothes pins.
And here's a list of the activities I wrote down. For now this is a collection of ideas that I either found or came up with. I'll be adding pictures of our activities here as we open each bag!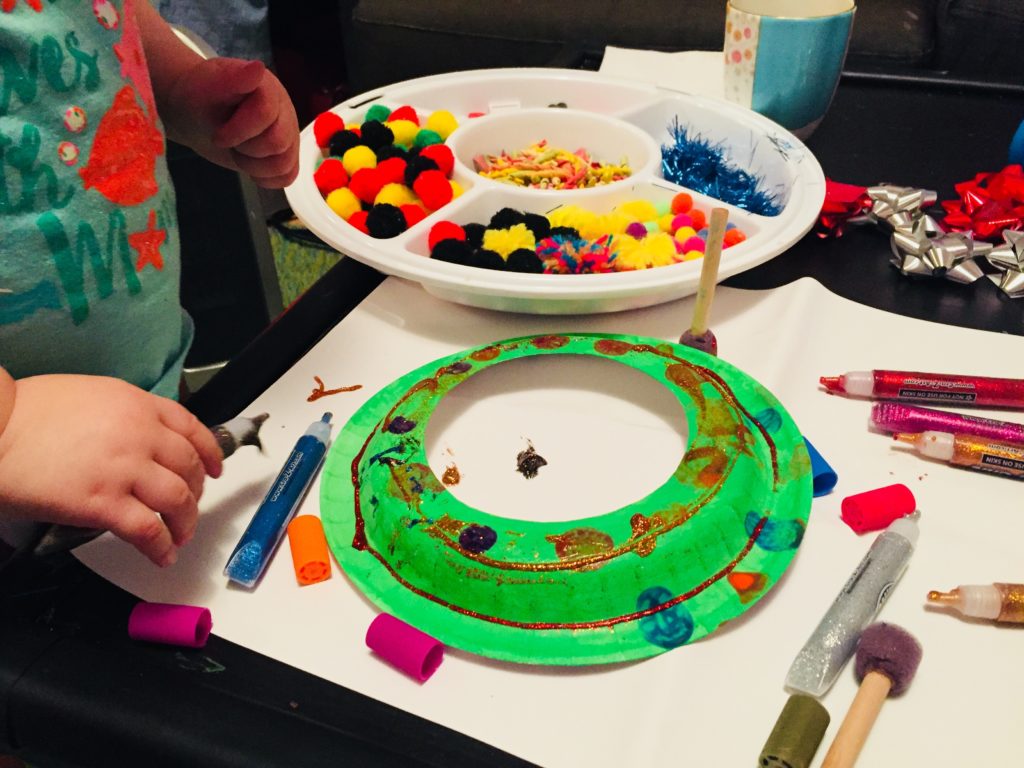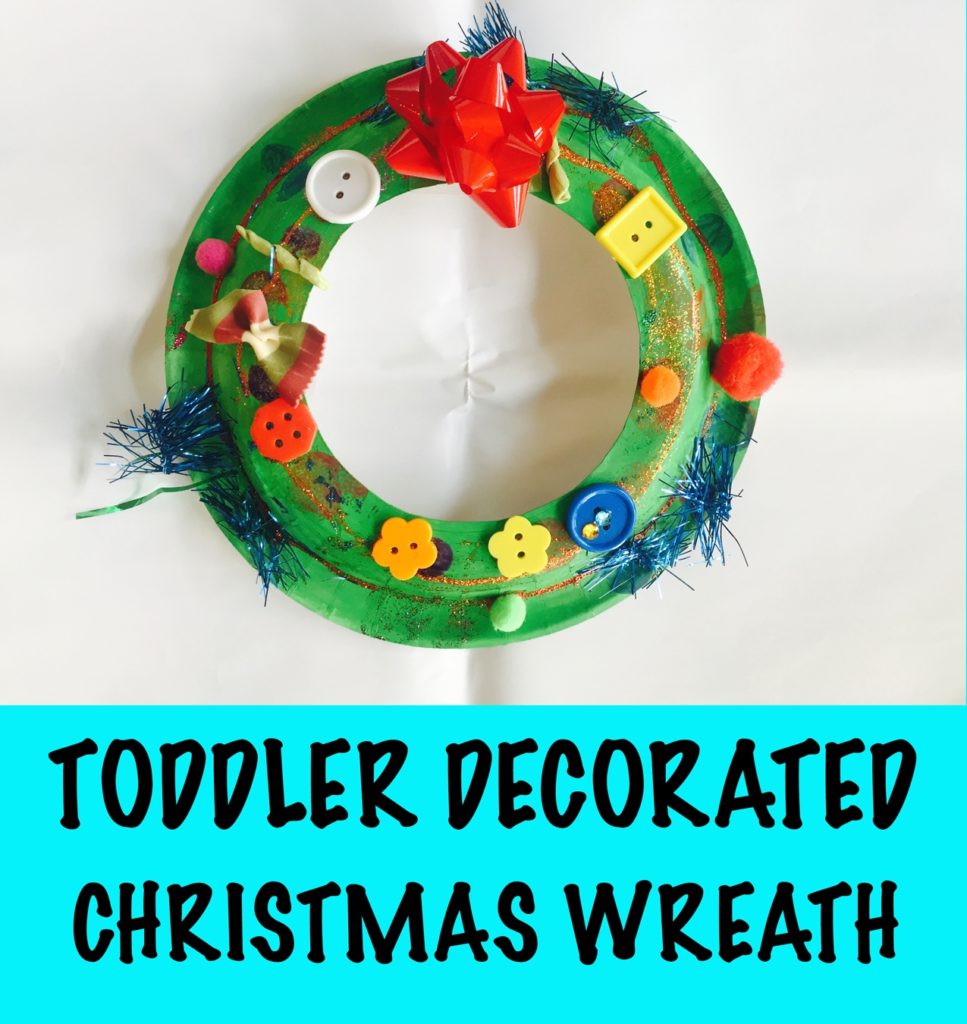 1. Make Christmas wreath
We opened up the first bag of the advent calendar today and did this first activity. The first activity was to make a Christmas wreath. First I cut out the center of the paper plate and painted it in green with acrylic paint. After it dried, Scarlett painted on it using round sponge brushes
 – they leave beautiful polka dot marks. Then we let it dry again, and Scarlett squeezed glitter glue
on it, and I helped her to spread it around the wreath. Then we placed buttons
, pompoms, pieces of garland, and and some pasta on it. I think it came out pretty good for a toddler craft!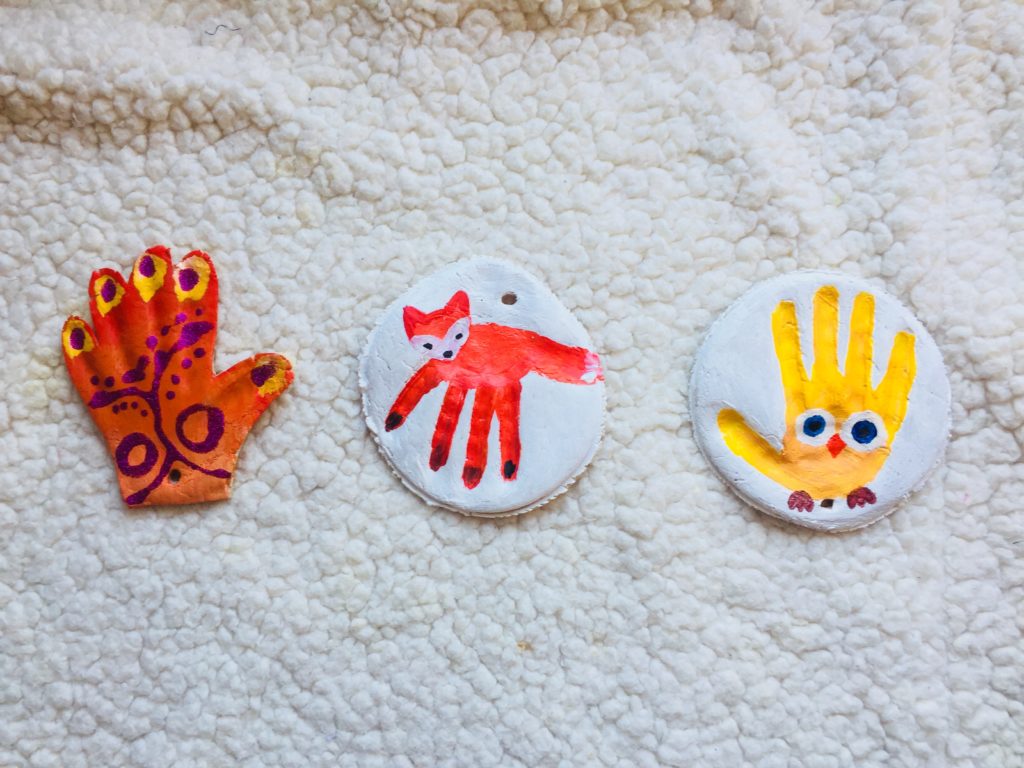 2. Make salt dough ornaments
We made this salt dough ornaments using this recipe: mix 4 cups of flour, 1 cup of salt, and 1.5 cups of water. We made 4 ornaments and had a little salt dough left. First, I made round shapes using one of the bowls, then we had Scarlett leave her handprints, made holes in the ornaments using straws, and after that I put them in the oven for 2 hours at 200 degrees. After they were done baking we painted them with acrylic paint. We made 2 of these for our grandmas for Christmas – one grandma loves owls, and the other one loves foxes. We signed the back of the ornament with a date and Scarlett's name. I think they came out fun!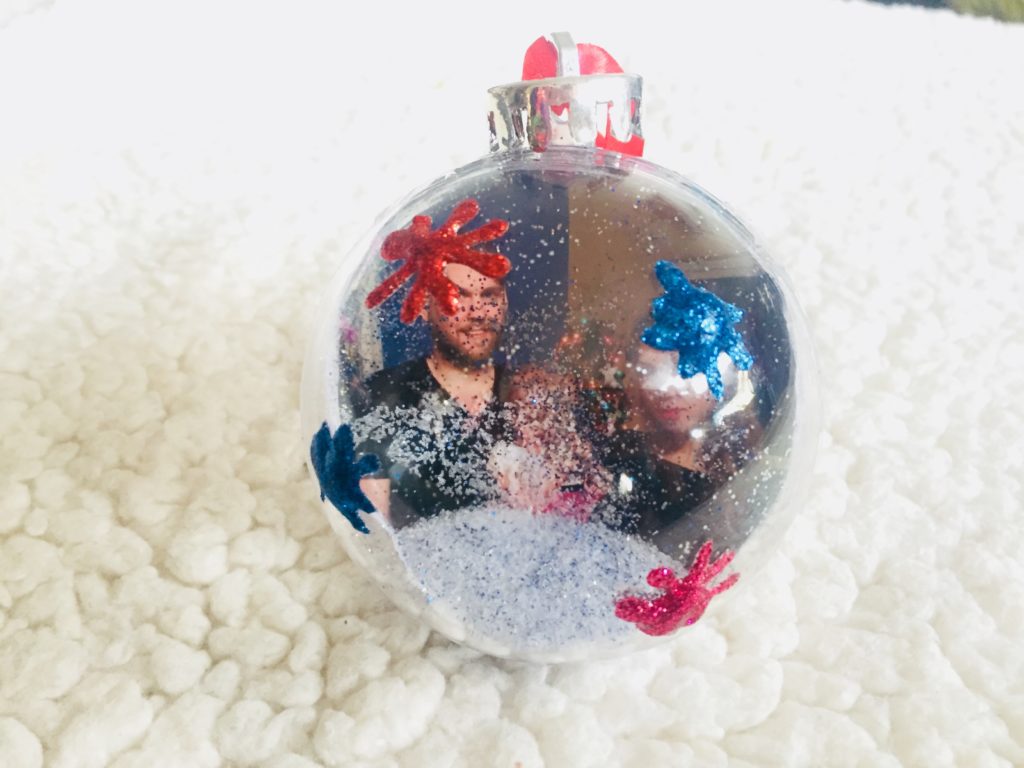 3. DIY plastic ball ornament
We made this fun Christmas ball ornament. I got these Clear Plastic Fillable Christmas Balls
, I included one of them as a gift in a pouch for that day.  I cut out our family pictures slightly smaller than the size of the ball, glued them together back to back and inserted inside the ball. I also filled it with snow – you can either make it yourself by mixing glitter and salt or get a ready  sparkling snow
. I cut the bottom of the picture shorter so that the snow can move freely to both sides. And in the end, we painted snowflakes on the ornament with glitter glue
.
4. Give hugs to everyone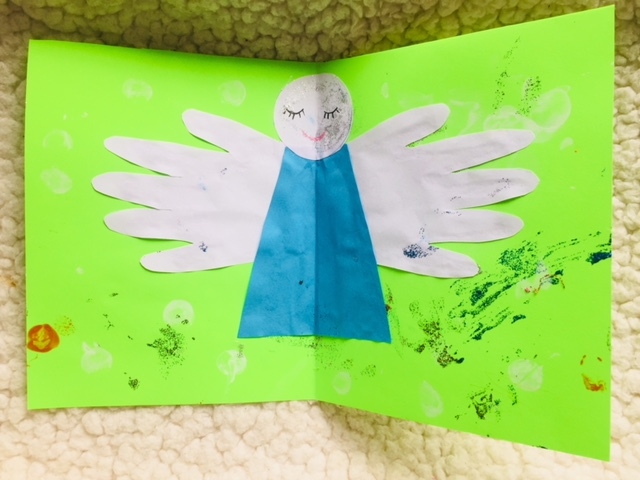 5. Make Christmas cards
We made these Christmas cards for grandparents by using the shape of Scarlett's handprint. First I traced Scarlett's hand, then cut out green and white handprint shapes to make a Christmas tree on the front of the card and angel wings in the middle. We decorated the front with sticky gems
and Scarlett decorated the middle of the card with glitter glue
.

6. Christmas theme Cheerio playsheet
Here's a fun Christmas themed activity with Cheerios. Print out these 2 sheets – deer and snowman and arrange Cheerios on deer's noses and around snowman to look like snow.
 
7. Make a jingle bells shaker
I got these jingle bells
 back in November so we had time to play with them with Scarlett. She loves loves these little color bells, and therefore I'm including a few jingle bells activities in this advent calendar. One of the simplest ways to make a shaker is to place bells on pipe cleaners
. Bracelets, necklaces, ornaments can be done in the same way.

8. Make snow dough
We made a snow dough with this recipe –  4 cups of baking soda and 1 cup of hair conditioner. You can add more conditioner if you like it to be more sticky or less if you like it to be crumbly. We did a little of sensory play with snow and build this little snowman.

9. Read a Christmas book
Our favorite Christmas book is Stick Man
. We love all books by Julia Donaldson, especially Gruffalo, Room on the Broom, and this one. It's an easy story for toddlers to understand and it's got a great Christmas spirit.

10. Jingle bells fishing
Here's another activity with jingle bells
.  Make a fishing pole by inserting a strong magnet into an empty tea bag/organza bag and by attaching it to a pen with a string or pipe cleander. Then try to catch bells with this fishing pole and place the caught ones into a bowl.

11. Decorate playdough gingerman with buttons
For that activity, I rolled playdough and cut out the shape of a gingerman with a knife. Then we decorated it with these colorful buttons
, fun pasta and sticky gems
. I opened up a picture of a gingerman on an ipad for reference, so Scarlett would have an idea what we are doing.
 
12. Roll jingle bells into cups
And another activity with jingle bells
. Tape a few plastic cups to the edge of the table and start rolling or dropping  bells into cups.

13. Winter/Christmas sensory and imaginery play
Different fillers can be used to create snow – white rice, cornstarch, cotton balls, sugar, salt with glitter or sparkling snow
. Scarlett loves to transfer things from one container to another, so we used white rice. I placed a white rice container on top of a light pad
, so we were digging to the bottom of the container to find the light. We put little toys in a small cup and covered it with rice. And we did a lot of rice transferring. I put a blanket underneath the container, but of course rice made it everywhere anyway. It did require extra vacuum cleaning, but I think 40 minutes of playing with rice was worth it.
14. Make a christmas tree with contact paper and decorate it
Christmas tree can be cut out from green construction paper, then place a sheet of contact paper
on top, sticky side up, and decorate with buttons, paper pieces, pompoms.

15. Make real or playdough cookies with cookie cutters

16.Christmas food art
This is definitely not the best food art we made. We used what we found in our fridge that day, and made a Santa Claus face. Well, kind of. His eyes could definitely be better. Strawberries and whipped cream tasted delicious though.

17. DIY wreath picture frames
And we made another gift for our grandmothers. First, I cut out round shapes for cardboard box, and painted them in blue. Then I put some glue on it and Scarlett helped me to place  colorful buttons
. After it all dried, I glued pictures of grandmas with their granddaughter to the back of the frame. These frames can be converted into Christmas ornaments by making a hole on top and inserting a ribbon.

18. Feed a reindeer with food
Make a reindeer from a box, by drawing reindeer's face on a box if the box is white, or by taping a sheet of paper with reindeer's face to a box. Then cut out an opening in the mouth area. Feed with pom poms, cut sponge pieces or cheerios by using a spoon, tweezers or  hands.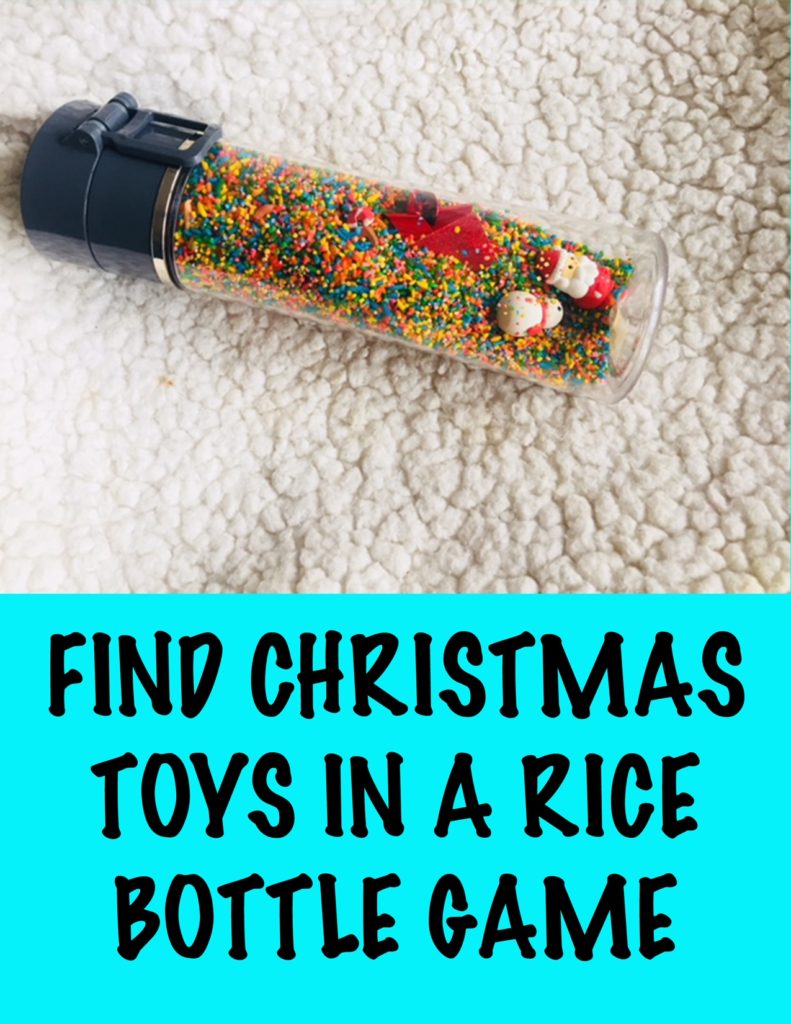 19. "Find it" winter sensory bottle
This activity is inspired by this Find it Game
. We made our DIY version by placing colored rice into a bottle, and by adding tiny winter toys, Christmas erasers
 and colored bows. The idea of the game is for you to name the object and for the child to find it in the bottle by turning it and shaking it. Older kids can play "I spy" game with this bottle.

20. Decorate a paper Christmas tree with playdough
Here's a fun Christmas tree decorating activity. Cut out Christmas tree from construction paper or draw it with a marker on white paper. Then help your child to make little balls from playdough so he or she can place them on the Christmas tree. We also squeezed spaghetti-like shapes with Fun Factory and made candy canes.

21. Christmas memory game
Here's a free printable for a Christmas theme memory game. Print out 2 copies of each page, cut them into cards and play a Christmas memory game.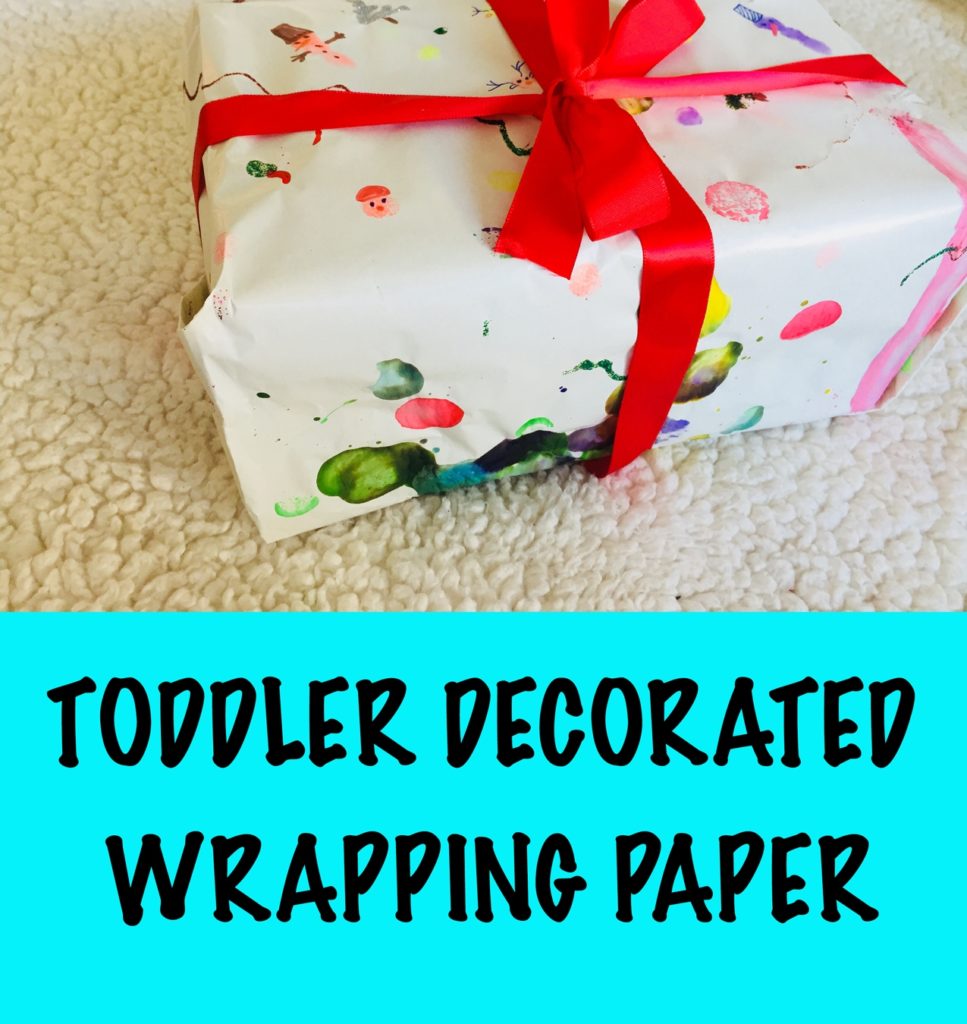 22. Wrapping paper craft
Here's an example of a wrapping paper with our designs. The back of any regular wrapping paper can be used for this. We also used this fingerpaint set
 which includes a great sturdy paper and 3 paint tubes. We did some thumb stamping, and ink pad stamps
 are perfect for this. After Scarlett did the stamping, I drew little details to thumb prints to make a deer, a snowman, a Christmas tree, etc. Then we added sparkly lines with glitter glue
, and painted polka dots with finger paint and sponge brushes
.

23. Our peg family
I had these wooden peg people
 around for a while, and I though it would be fun to incorporate them in our Christmas activities, and use 3 of these pegs to make our family. A while ago Scarlett got this Little People Surprise & Sounds Home
 for her birthday, and ever since she's been plying with those 3 figurines that it came with – one male and 2 female – saying that one of them is dada, one is mama, and one is Scarlett. So I thought making someone that looks like us from wooden pegs could be a fun idea.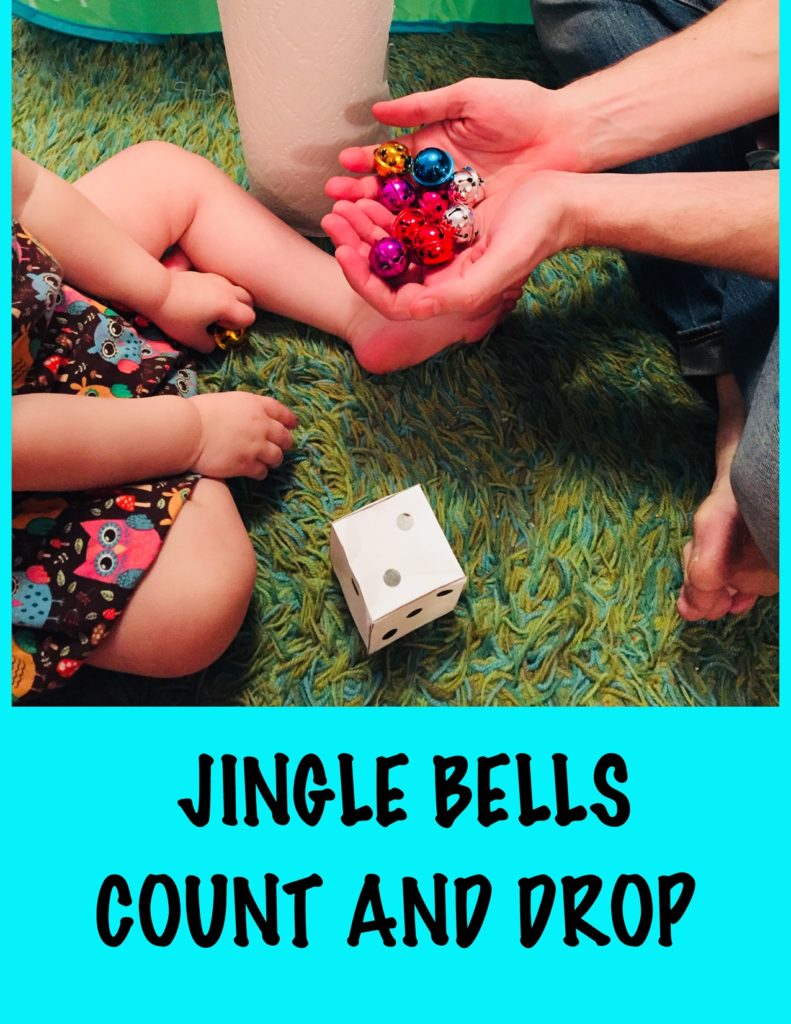 24. Jingle bells drop with dice
Somehow Scarlett's favorite activity with jingle bells
 is a very simple one – dropping them into paper towel tube, filling it up, and then lifting the paper towel to watch them spread around. In a little bit, we added a dice to this activity and made a new game out of it – each person rolls the dice, and depending on what number you get – you get to drop these many balls into the tube 🙂 You can make the dice yourself by printing these files – this one has numbers going up to 3 so it's easier for 2 year olds to use it, and this one has numbers going up to 6.
As far as gifts in the pouch bags – I got a few unique handmade Christmas tree ornaments that I put in the first few bags, I got finger puppets
 that I split into each bag (that filled a lot of bags), Christmas erasers
 are also great since they filled a lot of bags as well and they are fun for creating Christmas sensory bin/scene. I also got a set of little cat toys that I split into bags (Scarlett is crazy about cats).
Thank you for reading this post! Hope you found something useful. There's still time to do an advent calendar – even if it's just for 12 or 7 days before Christmas. Happy holidays!
You can also check out my post about Gift ideas for 2-3 year olds: educational games and toys .